Monday, September 30, 2019
Read and add comments (137)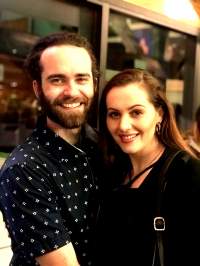 Hot on the heels of a hugely successful season of Madagascar earlier this year, Rotorua Musical Theatre are preparing to show case their talents in the world's best-loved musical Grease.
With a limited season available from 1 – 9 November, this toe-tapping musical bursting with hits is sure to be "the one that you want"!
Grease explores the friendships, romances and adventures of a group of high school kids Wholesome teen Sandy and leather-clad Danny Zuko are unexpectedly reunited after a summer romance.
Lead actors, Jessica McMillan and Ethan Wellington, found out they were chosen to be part of the show back in July and have been busy with rehearsals ever since.
Jessica McMillan has recently returned to her hometown of Rotorua after spending several years in Western Australia.
"I'm loving being back in NZ, Australia was so good to me but it just wasn't home."
"I am enjoying working with such a talented and dedicated cast. I think everyone coming to the show will have a great time. You can't help but sing with Grease so I'm hoping people dress up, sing along, and get amongst it! ", says Ms McMillan.
Ethan Wellington was selected to be cool T-Bird leader Danny Zuko. Born in Rotorua Ethan is no stranger to the Rotorua Musical Theatre after playing the role of wanna-be-rockstar Drew Boley in the Rock of Ages production last year.
Ethan's great passion for entertainment combined with his experience and training has made him a valuable member of the Grease cast.
"I am thrilled to be back with the Rotorua Musical Theatre family for another show season."
"Grease was one of my favourite films growing up and I am very excited to have the chance to perform again in Rotorua. I learnt so much doing Rock of Ages and already Grease - The Musical is shaping up to be an electrifying must-see experience", says Mr Wellington.
So round-up your T-Birds, pick up your Pink Ladies and head like 'greased lightning' to get your tickets now from
www.ticketmaster.co.nz or visit the Box Office at Rotorua Energy Events Centre, Queens Drive.
ENDS
For further information:
Kathy Nicholls, Communications & Marketing Coordinator,
Arts & Culture Division, Rotorua Lakes Council
P: 07 351 8456 C: 0276 741 898 E: Kathy.nicholls@rotorualc.nz
Image credit: Grease – The Musical lead actors; Ethan Wellington and Jessica McMillan
Monday, July 15, 2019
Read and add comments (80)
The 4th annual Wedding Industry Awards (NZ) Gala Event will be hosted at Energy Events Centre, Rotorua on Friday 26 July 2019.
Rotorua has range of spectacular wedding venues and it seems appropriate this is where exceptional talent of the New Zealand wedding industry is recognised and awarded.
This is the first year that the awards has been open to all of New Zealand, a dream that begun with the awards inception in 2014, when the awards were introduced first to Rotorua, Taupo, and Tauranga.
From the Events & Venues team to all the nominees and supporters, good luck! And enjoy your stay here in Rotorua.
For tips on getting married in Rotorua check out The Wedding Guy. Follow the Wedding Industry Awards on Facebook.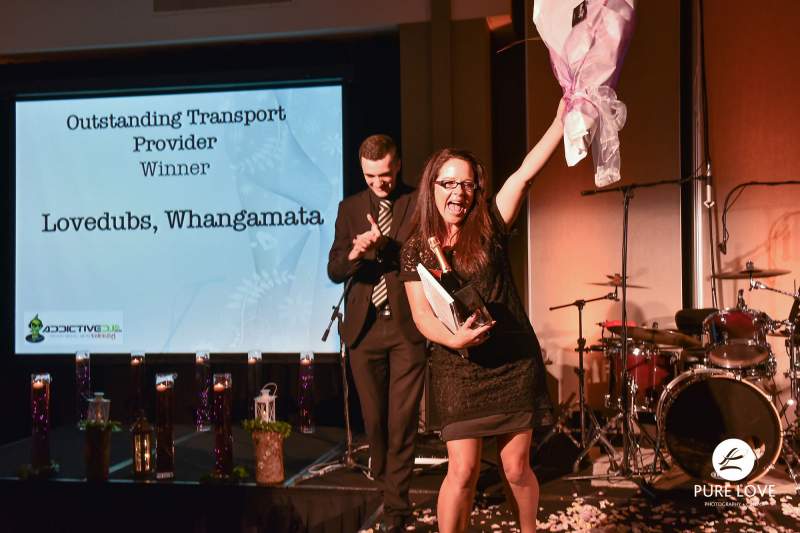 Friday, July 12, 2019
Read and add comments (60)
Do you know a local hero in Rotorua's sporting community?
Rotorua International Stadium wants to give away a VIP rugby experience for two deserving Rotorua sporting legends for the upcoming Māori All Blacks vs Fiji game on July 20.
Rotorua International Stadium Operations Manager Crispian Stewart says Rotorua is full of amazing people who dedicate their time to the sporting community.
"We would love to recognise some of those amazing people by giving away an awesome opportunity for them to experience the upcoming rugby clash as VIPs.
"We have two prizes to give away which are worth $800. Tell us who you think should win a VIP pass and what they do within our local sporting community that makes them deserving of winning one."
In addition to this, we have two general admission family passes to give away to those who submit the best nominations.
The Māori All Blacks have a rich rugby history beginning with their first match played in the city more than 100 years ago.
Fiji will be using this match as a launching pad for their Rugby World Cup campaign and are guaranteed to bring their firebrand style and flair to the game.
Meanwhile, the fired-up Māori All Blacks side will be looking to avenge the loss they suffered against the British and Irish Lions when they last played Rotorua in 2017.
The game is being held at Rotorua International Stadium on July 20; gates open at 4.30pm with the U20's Māori All Blacks and U20s Fiji Rugby sides playing the curtain raiser from 5pm.

Tickets are also available online at allblacks.com and onsite at the Energy Event Centre.

What you need to know:
- You can only nominate once and you are allowed to nominate as a sports club or team
- You need to be 18+ to be eligible to win
- Nominate your local sporting hero by clicking this link and filling out the form
- Winners will be announced on the Rotorua International Stadium Instagram & Facebook pages on Thursday July 18
- A photo of your nominee needs to be added to the nomination form as well as their contact details including which club or team your nominee plays/ coaches for (if applicable).

[ENDS]
For more information email news@rotorualc.nz
Monday, April 29, 2019
Read and add comments (52)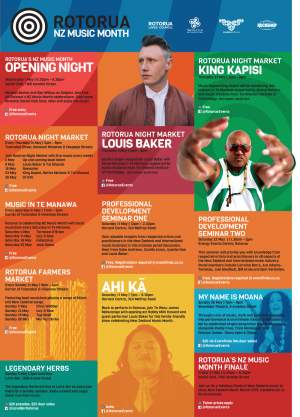 Thursday, January 17, 2019
Read and add comments (22)
Bring along a picnic and a rug and settle in to enjoy free local entertainment as Music at the Band Rotunda returns to Government Gardens on Sunday afternoons in February and March.
The series will cover six Sunday afternoon sessions from 1pm – 3pm, starting Sunday 3 February.
After celebrating its tenth birthday last year, Music at the Band Rotunda has refreshed the format for 2019 allowing twice as many local performers to showcase their talents.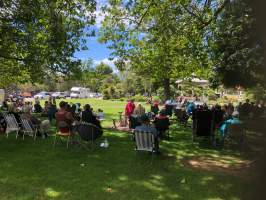 Rotorua Lakes Council Performing Arts Director, Cian Elyse White, has taken over the programming of this event and is excited to extend the range of entertainers on offer.
''Rotorua has an exceptionally talented arts community and I am thrilled to have picked up the mantle of this event, carrying on the wonderful mahi of the former organisers. This year's summer series promises a diverse range of artists, from emerging to established, and covering a myriad of genre. Rotorua is in for a treat, as this year's Music at the Rotunda series is shaping up to be an exciting event for all.''
This year the programme will offer two different performances each afternoon, featuring local musicians and groups including jazz, blues, country, roots, ukulele, show tunes, rock'n'roll, symphonic bands and much more.
Sunday 3 February – 1pm: Stave, 2.15pm: Simply Random
Sunday 10 February – 1pm: Rotorua Symphonic Band, 2.15pm: Nikau and Ian Perrie
Sunday 17 February – 1pm: Jazzanovo, 2.15pm: Sunrise Rockers
Sunday 24 February – Art in the Park (10am – 4pm, www.artsvillage.org.nz)
Sunday 3 March – 1pm: Gabriels Presence, 2.15pm: The Thermaleles
Sunday 10 March – 1pm: Evelyn Falconer, 2.15pm: Rhinestone Mining Company
Sunday 17 March – 1pm: Elisha Hulton & Turanga Merito, 2.15pm: De Nova
Note: Sunday 24 and Sunday 31 March will be left as wet weather days if any of the previous shows are cancelled.
Music at the Band Rotunda is brought to you by Creative Rotorua and Rotorua Lakes Council with support from Rotorua Energy Charitable Trust.
ENDS
For further information:
Kathy Nicholls, Communications & Marketing Coordinator,
Arts & Culture Division, Rotorua Lakes Council
P: 07 351 7831 C: 0276 741 898 E: Kathy.nicholls@rotorualc.nz
Image credit: Music at the Band Rotunda, 2018
Tuesday, January 8, 2019
Read and add comments (26)
Filled with outlandish characters, adventure galore and an upbeat score, Madagascar JR. will leave audiences with no choice but to "Move It, Move It!" Don't miss the opportunity to see this special stage at the Energy Events Centre, presented by Rotorua Musical Theatre & Rotorua Lakes Council. Directed by Natasha Benfell, Assistant Director Kira Lees, Vocal Director Connor Hignett and Choreographer Joshua McGrath.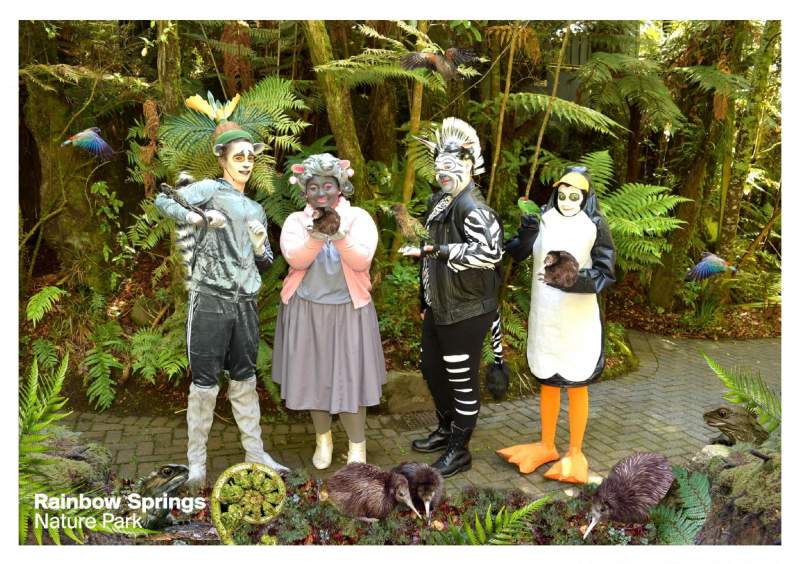 Sessions: Thursday 10 January 2019 to Sunday 20 January 2019
Venue: Energy Events Centre, Government Gardens, Rotorua
Ticket prices:
Adults $20
Child $15 (1 - 13 years)
Family $60 (2 adults & 2 children)
*All tickets purchased between Monday 7 & Sunday 13 January 2019 go in the draw for a Family Pass to Rainbow Springs Nature Park!
Please only purchase tickets from an official Ticketmaster Box Office or book online.
Check out the Madagascar Menu of food & drinks on sale throughout the show and follow Madagascar A Musical Adventure Jr. Rotorua on Facebook for more info.
Tip: Seating is at round tables of up to 10 people. You can choose your table/seat numbers if you book through the Energy Events Centre Ticketmaster Box Office. Give them a call on 07 3495141 email eventsandvenues@rotorualc.nz or call in at 1 Queens Drive, Government Gardens, Rotorua.
Take a journey out of the zoo and onto the stage with your favourite crack-a-lackin' friends from the blockbuster DreamWorks film. Join Alex the Lion, Marty the Zebra, Melman the Giraffe, Gloria the hip Hippo and those hilarious, plotting penguins, as they bound onto your stage in the musical adventure of a lifetime!
Friday, December 21, 2018
Read and add comments (20)
As well as producing toe-tapping shows like the upcoming Madagascar Jr – A Musical Adventure, Rotorua Musical Theatre provides mentoring for youth interested in following a career in the performing arts.
Eighteen year old Joshua McGrath has been dancing for over 13 years and with roles in Shrek Jr and Mary Poppins, feels very at home on the stage.
As playing one of the lead roles of King Julien, Joshua also has a passion for the production side of performances which led to him taking on one of the biggest challenges of his career as sole Choreographer for Madagascar Jr.
"I was a bit daunted at first but excited by the opportunity. The music is upbeat and offers great potential for choreography."
"To see dance moves that I have created performed together on the big stage is an amazing feeling. Playing a lead and choreographing was a juggling act, but it was so much fun and I have loved every moment", says McGrath.
This was Josh's first time as choreographer for a professional musical and he received great support from the experienced Rotorua Musical Theatre team.
"They worked through every step with me, gave great guidance and were very generous with their knowledge and experience", says McGrath.
Rotorua Musical Theatre is committed to providing mentorship to local youth interested in all areas of theatre.
"We recognise the talent and skills that youth have and understand we have a duty to share our knowledge with the younger generations. They want to, and are very capable of making an enormous contribution. Community theatre is the best training ground for them to get real experience" explains Rotorua Musical Theatre Director Nastaha Benfell.
Joshua McGrath (R) and as King Julien (L), Madagascar Jr – A Musical Adventure
As well as supporting Joshua as Choreographer, Rotorua Musical Theatre have introduced a mentoring programme to encourage and nurture students in the key roles of Director, Production Manager and Stage Manager. Kira Lees (Assistant Director), Jessica Fenwick (Assistant Production Manager) and Mikayla Heasman (Assistant Stage Manager) have worked alongside managers and gained valuable insight into what is required to put on a production of this nature.
"It was a great opportunity for me to learn more of the production side of things and has been a privilege to work with the amazing cast and crew. It's going to help next year as I start at Toi Whakaari studying a Bachelor of Performing Arts in Wellington", says Mikayla Heasman.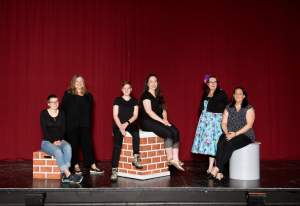 Image credit: Mentors and students (from left to right): Mikayla Heasman, Lisa Baty, Kira Lees, Jessica Fenwick, Gae Wheeler and Natasha Benfell.
Recently appointed Director of Performing Arts for Rotorua Lakes Council, Cian White, believes the mentoring provided in invaluable.
'The Rotorua Musical Theatre works tirelessly to create impressive opportunities that allow our rangatahi opportunities to shine in performing arts. Madagascar will be no exception to that!', says Miss White.
Based on the smash DreamWorks animated motion picture, Madagascar – A Musical Adventure JR follows the well-known characters Alex the Lion, Marty the Zebra, Melman the Giraffe, Gloria the hip Hippo and the hilarious, plotting penguins, as they escape from their home in New York's Central Park Zoo and find themselves on an unexpected journey to the madcap world of King Julien's Madagascar.
More than 58 children (ages 10 – 18 years) will play the outlandish characters in the shows that will run from 10 – 20 January 2019 at the Rotorua Energy Events Centre.
Madagascar – A Musical Adventure JR tickets are on sale now from Ticketmaster.co.nz or from the Box Office at Energy Events Centre, Rotorua. Vouchers are available for Christmas gifts. Adults: $20, Child: $15 or Family: $60. Booking fees apply.
ENDS
For further information:
Kathy Nicholls, Communications & Marketing Coordinator,
Arts & Culture Division, Rotorua Lakes Council
P: 07 351 8456 C: 0276 741 898 E: Kathy.nicholls@rotorualc.nz
Thursday, November 29, 2018
Read and add comments (49)
With so many great events on in Rotorua this summer you will need to grab a free Rotorua Summer Events Calendar out Friday (30 November 2018) so you don't miss out.
From the festivals and kid's holiday activities, to multi-sport events and art trails, the poster-sized calendar includes a range of activities that are on around Rotorua in December, January and February.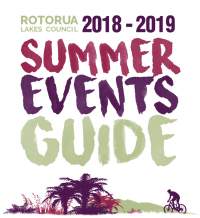 Check out information about the free family-friendly New Year's Eve GLO Festival celebrations at the Rotorua Village Green. The event kicks off at 4.30pm and offers local entertainment, a family movie and food trucks ahead of the fireworks spectacular at 9.30pm. You can also get a sneak peek at the all child cast from Madagascar – A Musical Adventure Jr. ahead of their limited season at the Rotorua Energy Events Centre from 10-20 January 2019.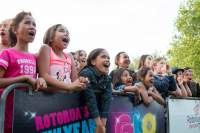 There are many free walking trails for children to explore Rotorua this summer. Vote for your favourite sculpture from this year's Rotorua Sculpture Symposium and see if you can find all the decorated trout in Fish out of Water art trail. Both Rotorua Museum and Rotorua Library are offering activity sheets that will encourage creative minds and keep them busy.
The quarterly events calendar offers an easy reference guide during the holiday period and is available in the Rotorua Weekender on Friday. As well as the newspaper insert, the calendar can also be downloaded from www.rotorualakescouncil.nz/our-city/whats-on or you can pick one up from the Rotorua iSite, Rotorua Library or the Rotorua Lakes Council.
Monday, November 5, 2018
Read and add comments (55)
With the construction phase due to get underway next year for both Rotorua Museum and the Sir Howard Morrison Performing Arts Centre, project managers have now been appointed for the seismic strengthening and redevelopment of these key community facilities.
Following a competitive detailed tender process, Rotorua Lakes Council has appointed WSP Opus to manage the Rotorua Museum project and AECOM to manage the Sir Howard Morrison Performing Arts Centre project.
"These projects are both quite complex," said Stewart Brown, Rotorua Lakes Council's Manager Arts & Culture. "They both involve seismic strengthening, they are both Category 1 heritage buildings and they are both situated in a geothermal area with the added challenges that brings," he said.
For that reason, the projects need dedicated, experienced project managers to ensure the quality, timeframes and budgets are actively overseen every step of the way. To avoid conflicting time pressures, the team decided it was important to have separate project managers for these two major developments.
Mr Brown said the project team was impressed with WSP Opus's local team, and the wealth of additional expertise from around New Zealand and internationally, that could be drawn on if required. WSP Opus have had an office in Rotorua for around 70 years and their extensive history working with Council, and long and trusted relationships with local contractors, will ensure seamless integration into the project. They also know the challenges of working in Rotorua's geothermal landscape.
"It means they will be right here - in the project and on site. With such a complex development quick responses will be a really important factor to keep the project on track," said Mr Brown.
"As a local team, we have skin in the game," said Project Director Fred Shilton. "We are local ratepayers who love the Museum and want to ensure that future generations are able to enjoy and love it too. This is a special project and it is a privilege for us to be involved. We will be bringing wide-ranging expertise, with our extensive and agile resource pool, to ensure that this project is effectively and efficiently managed right through to its' conclusion," he said.
For the Sir Howard Morrison Performing Arts Centre, Auckland-based AECOM have been providing interim project management services for the last few months. Based on their excellent performance to date, and the wealth of experience they bring to the project, they were the obvious choice to project manage the seismic strengthening and redevelopment of this significant community venue.
"AECOM have already established some excellent systems and processes for managing the Sir Howard Morrison Centre project," said Mr Brown. "The depth of their team, experience working with Councils, combined project management experience and already established relationships will ensure the project continues to progress efficiently."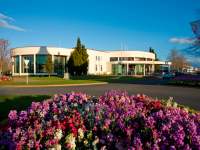 "We have been supporting council during the set-up phase of this iconic project and are thrilled to be continuing with this strong partnership," said AECOM Technical Director, Kerry Newell.
"Our team will provide the required leadership and skills to navigate this complex project to a successful completion. We recognise how important the Sir Howard Morrison Performing Arts Centre is for Rotorua. It will be an important focal point for the community, providing work opportunities and valuable facilities. We have a long track record of supporting the development of similar recreational community projects," he said.
With the design phase well underway for both projects, one of the first key tasks of the project managers will be the procurement of contractors in preparation for construction to start in 2019.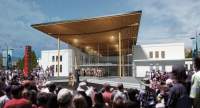 During the recent long term planning round, Rotorua Lakes Council agreed to commit $15 million towards the seismic strengthening of Rotorua Museum and $4.5million towards the seismic strengthening of the Sir Howard Morrison Performing Arts Centre. The balance of funds for both projects is to be sourced externally.
ENDS
For further information:
Joanna Doherty, Business Development Manager
Arts & Culture Division, Rotorua Lakes Council
P: 07 351 7831 C: 027 272 5768 E: joanna.doherty@rotorualc.nz
Image credit: Sir Howard Morrison Performing Arts Centre
Image credit: Artist's impression of the redeveloped Sir Howard Morrison Performing Arts Centre. Courtesy of Shand Shelton Architects
Friday, October 26, 2018
Read and add comments (68)
After more than a decade on stage and screen, actor, writer and director Cian Elyse White (Te Arawa, Ngāti Pikiao) is taking up a new role as Rotorua Lakes Council's Performing Arts Director.
Miss White will be part of the council's Arts and Culture team which aims to deliver events, facilities, services and programmes that will see Rotorua loved as the heart of Māori cultural expression and known for its vibrant and creative arts.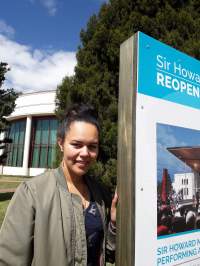 Her role will include facilitating performances in a range of Rotorua venues including the soon-to-be redeveloped Sir Howard Morrison Performing Arts Centre and she is excited by the challenge ahead.
"I am absolutely humbled by the appointment and I look forward to contributing to the [delivery of a] strategic vision for our performing arts sector here in Rotorua, with particular focus on creating opportunities for Rotorua's own exceptional talents", says Miss White.
She will utilise her storytelling abilities to achieve positive outcomes for Rotorua's performing arts sector and audiences.
"Storytelling is a powerful vehicle for change and I am most excited about serving the Rotorua community and looking at ways to develop our audiences through a range of venues including the upgraded Sir Howard Morrison Performing Arts Centre", says Miss White.
Rotorua born and bred, Miss White has featured on local, national and international stages and screens. Most recently she organised the inaugural IHI Indigenous Performing Arts Festival in Rotorua last month, which included directing a highly successful season of Ngā Puke, a play by John Broughton, at Rotorua Little Theatre.
Other acting credits include 800 Words, The Brokenwood Mysteries and her award winning Māori musical Te Puhi which was inspired by the legacy of Rotorua beauty queens Moana Whaanga and Maureen Waaka.
Rotorua Lakes Council Arts and Culture Manager, Stewart Brown, says the appointment will support the development of the Rotorua creative business sector and is another big step forward in the Sir Howard Morrison Performing Arts Centre redevelopment project.
"With construction starting next year and opening expected in 2020, Cian will use her extensive relationships, both internationally and nationally, to develop and entice a fantastic range of shows to add to the vibrant arts scene already in Rotorua.
"Her experience and knowledge made her an ideal candidate for this position. Cian will focus on organising performances 'outside the walls' and curate a programme so that when the redevelopment project is complete we will have a fantastic building suitable for a wide range of events in our community", says Mr Brown.
The Sir Howard Morrison Performing Arts Centre closed in November 2017 for seismic strengthening and redevelopment. The stage one enhancements include:
• upgrade of the Concert Chamber to a flexible performance space able to seat up to 300 people
• upgrade and extension of the Civic Theatre to 1,000 seats
• general refurbishment of the main foyer, Banquet Room, and other spaces
• refurbishment of the building exterior, and external landscaping and lighting
ENDS
For further information:
Kathy Nicholls, Communications & Marketing Coordinator,
Arts & Culture Division, Rotorua Lakes Council
P: 07 351 7831 C: 0276 741 898 E: Kathy.nicholls@rotorualc.nz
Image credit: Cian Elyse White. Courtesy of Rotorua Lakes Council
Next page

Viewing page 1 of 9