Wide range of events on in Rotorua this summer
Thursday, November 29, 2018
Comments: 49
With so many great events on in Rotorua this summer you will need to grab a free Rotorua Summer Events Calendar out Friday (30 November 2018) so you don't miss out.
From the festivals and kid's holiday activities, to multi-sport events and art trails, the poster-sized calendar includes a range of activities that are on around Rotorua in December, January and February.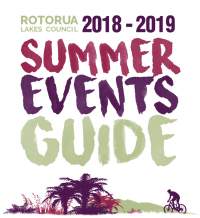 Check out information about the free family-friendly New Year's Eve GLO Festival celebrations at the Rotorua Village Green. The event kicks off at 4.30pm and offers local entertainment, a family movie and food trucks ahead of the fireworks spectacular at 9.30pm. You can also get a sneak peek at the all child cast from Madagascar – A Musical Adventure Jr. ahead of their limited season at the Rotorua Energy Events Centre from 10-20 January 2019.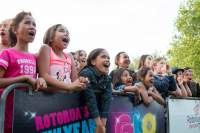 There are many free walking trails for children to explore Rotorua this summer. Vote for your favourite sculpture from this year's Rotorua Sculpture Symposium and see if you can find all the decorated trout in Fish out of Water art trail. Both Rotorua Museum and Rotorua Library are offering activity sheets that will encourage creative minds and keep them busy.
The quarterly events calendar offers an easy reference guide during the holiday period and is available in the Rotorua Weekender on Friday. As well as the newspaper insert, the calendar can also be downloaded from www.rotorualakescouncil.nz/our-city/whats-on or you can pick one up from the Rotorua iSite, Rotorua Library or the Rotorua Lakes Council.
Comments