Project managers appointed for Rotorua Museum and the Sir Howard Morrison Performing Arts Centre
Monday, November 5, 2018
Comments: 55
With the construction phase due to get underway next year for both Rotorua Museum and the Sir Howard Morrison Performing Arts Centre, project managers have now been appointed for the seismic strengthening and redevelopment of these key community facilities.
Following a competitive detailed tender process, Rotorua Lakes Council has appointed WSP Opus to manage the Rotorua Museum project and AECOM to manage the Sir Howard Morrison Performing Arts Centre project.
"These projects are both quite complex," said Stewart Brown, Rotorua Lakes Council's Manager Arts & Culture. "They both involve seismic strengthening, they are both Category 1 heritage buildings and they are both situated in a geothermal area with the added challenges that brings," he said.
For that reason, the projects need dedicated, experienced project managers to ensure the quality, timeframes and budgets are actively overseen every step of the way. To avoid conflicting time pressures, the team decided it was important to have separate project managers for these two major developments.
Mr Brown said the project team was impressed with WSP Opus's local team, and the wealth of additional expertise from around New Zealand and internationally, that could be drawn on if required. WSP Opus have had an office in Rotorua for around 70 years and their extensive history working with Council, and long and trusted relationships with local contractors, will ensure seamless integration into the project. They also know the challenges of working in Rotorua's geothermal landscape.
"It means they will be right here - in the project and on site. With such a complex development quick responses will be a really important factor to keep the project on track," said Mr Brown.
"As a local team, we have skin in the game," said Project Director Fred Shilton. "We are local ratepayers who love the Museum and want to ensure that future generations are able to enjoy and love it too. This is a special project and it is a privilege for us to be involved. We will be bringing wide-ranging expertise, with our extensive and agile resource pool, to ensure that this project is effectively and efficiently managed right through to its' conclusion," he said.
For the Sir Howard Morrison Performing Arts Centre, Auckland-based AECOM have been providing interim project management services for the last few months. Based on their excellent performance to date, and the wealth of experience they bring to the project, they were the obvious choice to project manage the seismic strengthening and redevelopment of this significant community venue.
"AECOM have already established some excellent systems and processes for managing the Sir Howard Morrison Centre project," said Mr Brown. "The depth of their team, experience working with Councils, combined project management experience and already established relationships will ensure the project continues to progress efficiently."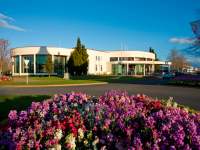 "We have been supporting council during the set-up phase of this iconic project and are thrilled to be continuing with this strong partnership," said AECOM Technical Director, Kerry Newell.
"Our team will provide the required leadership and skills to navigate this complex project to a successful completion. We recognise how important the Sir Howard Morrison Performing Arts Centre is for Rotorua. It will be an important focal point for the community, providing work opportunities and valuable facilities. We have a long track record of supporting the development of similar recreational community projects," he said.
With the design phase well underway for both projects, one of the first key tasks of the project managers will be the procurement of contractors in preparation for construction to start in 2019.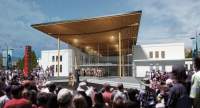 During the recent long term planning round, Rotorua Lakes Council agreed to commit $15 million towards the seismic strengthening of Rotorua Museum and $4.5million towards the seismic strengthening of the Sir Howard Morrison Performing Arts Centre. The balance of funds for both projects is to be sourced externally.
ENDS
For further information:
Joanna Doherty, Business Development Manager
Arts & Culture Division, Rotorua Lakes Council
P: 07 351 7831 C: 027 272 5768 E: joanna.doherty@rotorualc.nz
Image credit: Sir Howard Morrison Performing Arts Centre
Image credit: Artist's impression of the redeveloped Sir Howard Morrison Performing Arts Centre. Courtesy of Shand Shelton Architects
Comments