Grease really is the one that you want!
Monday, September 30, 2019
Comments: 137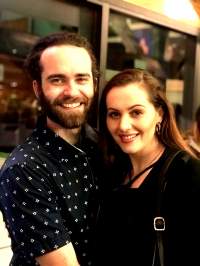 Hot on the heels of a hugely successful season of Madagascar earlier this year, Rotorua Musical Theatre are preparing to show case their talents in the world's best-loved musical Grease.
With a limited season available from 1 – 9 November, this toe-tapping musical bursting with hits is sure to be "the one that you want"!
Grease explores the friendships, romances and adventures of a group of high school kids Wholesome teen Sandy and leather-clad Danny Zuko are unexpectedly reunited after a summer romance.
Lead actors, Jessica McMillan and Ethan Wellington, found out they were chosen to be part of the show back in July and have been busy with rehearsals ever since.
Jessica McMillan has recently returned to her hometown of Rotorua after spending several years in Western Australia.
"I'm loving being back in NZ, Australia was so good to me but it just wasn't home."
"I am enjoying working with such a talented and dedicated cast. I think everyone coming to the show will have a great time. You can't help but sing with Grease so I'm hoping people dress up, sing along, and get amongst it! ", says Ms McMillan.
Ethan Wellington was selected to be cool T-Bird leader Danny Zuko. Born in Rotorua Ethan is no stranger to the Rotorua Musical Theatre after playing the role of wanna-be-rockstar Drew Boley in the Rock of Ages production last year.
Ethan's great passion for entertainment combined with his experience and training has made him a valuable member of the Grease cast.
"I am thrilled to be back with the Rotorua Musical Theatre family for another show season."
"Grease was one of my favourite films growing up and I am very excited to have the chance to perform again in Rotorua. I learnt so much doing Rock of Ages and already Grease - The Musical is shaping up to be an electrifying must-see experience", says Mr Wellington.
So round-up your T-Birds, pick up your Pink Ladies and head like 'greased lightning' to get your tickets now from
www.ticketmaster.co.nz or visit the Box Office at Rotorua Energy Events Centre, Queens Drive.
ENDS
For further information:
Kathy Nicholls, Communications & Marketing Coordinator,
Arts & Culture Division, Rotorua Lakes Council
P: 07 351 8456 C: 0276 741 898 E: Kathy.nicholls@rotorualc.nz
Image credit: Grease – The Musical lead actors; Ethan Wellington and Jessica McMillan
Comments