New Performing Arts Director appointed
Friday, October 26, 2018
Comments: 68
After more than a decade on stage and screen, actor, writer and director Cian Elyse White (Te Arawa, Ngāti Pikiao) is taking up a new role as Rotorua Lakes Council's Performing Arts Director.
Miss White will be part of the council's Arts and Culture team which aims to deliver events, facilities, services and programmes that will see Rotorua loved as the heart of Māori cultural expression and known for its vibrant and creative arts.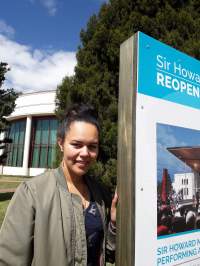 Her role will include facilitating performances in a range of Rotorua venues including the soon-to-be redeveloped Sir Howard Morrison Performing Arts Centre and she is excited by the challenge ahead.
"I am absolutely humbled by the appointment and I look forward to contributing to the [delivery of a] strategic vision for our performing arts sector here in Rotorua, with particular focus on creating opportunities for Rotorua's own exceptional talents", says Miss White.
She will utilise her storytelling abilities to achieve positive outcomes for Rotorua's performing arts sector and audiences.
"Storytelling is a powerful vehicle for change and I am most excited about serving the Rotorua community and looking at ways to develop our audiences through a range of venues including the upgraded Sir Howard Morrison Performing Arts Centre", says Miss White.
Rotorua born and bred, Miss White has featured on local, national and international stages and screens. Most recently she organised the inaugural IHI Indigenous Performing Arts Festival in Rotorua last month, which included directing a highly successful season of Ngā Puke, a play by John Broughton, at Rotorua Little Theatre.
Other acting credits include 800 Words, The Brokenwood Mysteries and her award winning Māori musical Te Puhi which was inspired by the legacy of Rotorua beauty queens Moana Whaanga and Maureen Waaka.
Rotorua Lakes Council Arts and Culture Manager, Stewart Brown, says the appointment will support the development of the Rotorua creative business sector and is another big step forward in the Sir Howard Morrison Performing Arts Centre redevelopment project.
"With construction starting next year and opening expected in 2020, Cian will use her extensive relationships, both internationally and nationally, to develop and entice a fantastic range of shows to add to the vibrant arts scene already in Rotorua.
"Her experience and knowledge made her an ideal candidate for this position. Cian will focus on organising performances 'outside the walls' and curate a programme so that when the redevelopment project is complete we will have a fantastic building suitable for a wide range of events in our community", says Mr Brown.
The Sir Howard Morrison Performing Arts Centre closed in November 2017 for seismic strengthening and redevelopment. The stage one enhancements include:
• upgrade of the Concert Chamber to a flexible performance space able to seat up to 300 people
• upgrade and extension of the Civic Theatre to 1,000 seats
• general refurbishment of the main foyer, Banquet Room, and other spaces
• refurbishment of the building exterior, and external landscaping and lighting
ENDS
For further information:
Kathy Nicholls, Communications & Marketing Coordinator,
Arts & Culture Division, Rotorua Lakes Council
P: 07 351 7831 C: 0276 741 898 E: Kathy.nicholls@rotorualc.nz
Image credit: Cian Elyse White. Courtesy of Rotorua Lakes Council
Comments