Slam Rock 2018
Wednesday, June 6, 2018
Comments: 0
Come along to the FIFTH ANNIVERSARY of New Zealand's premier Roller Derby event, SLAM ROCK, LIVE at Rotorua's Southern Trust Sportsdrome!
Sulphur City Steam Rollers' Motley Crew vs Moana Roller Derby's Salty Rollers
~!~ TICKETS ON SALE NOW ~!~
Phone: 07 928 4500 or 0800 111 999
PRICES*:
$15 adult
$7 child (< 14yrs)
$40 family (2 adults and 2 kids)
Under 3s free
*Ticketmaster booking fee applies
https://tinyurl.com/SlamRock2018Tix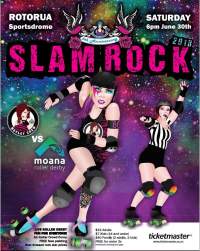 TICKET PURCHASING TIP: Get your friends together and buy your tickets at the same time. That way you can split the cost of Ticketmaster's booking fee! :-)
~~~~~~~~~~~~~~~~~~~~~~~~~~~~~~~~~~~~~~~~~~~~~
The Sulphur City Steam Rollers' annual sell-out event, SLAM ROCK returns to the city for its fifth year on Saturday June 30th 2018!
Slam Rock 2018 sees the Steam Rollers' A-team Motley Crew take on Moana Roller Derby in an on-skate battle not for the faint hearted.
With a mix of Slam Rock veterans, along with some of the league's newer players, Motley Crew are sure to have a large group of supporters in the crowd and it is anticipated tickets will sell quickly.
Half-time entertainment will include the Steam Rollers' annual Slam Rock Air Guitar Competition, where members of the crowd are invited 'on stage' to show off their skills in the hope of winning a real guitar.
Prizes will also be given to the Best Dressed Adult and Child Rock Stars as well as the group with the Best Supporter Sign! Spot prizes will be floating around too.
The Sulphur City Steam Rollers will be selling merchandise and raffle tickets to their annual 'Experience Rotorua' fundraising raffle, which includes prizes from a large number of different Rotorua tourism operators.
In previous years, tickets to Slam Rock have sold out up to a week prior to the event. So the organisers recommend that tickets are purchased well in advance.
In the game of roller derby, which is full contact and has been likened to 'rugby on skates', players skate around an oval track in a pack made up of eight skaters, four from each team, who hold the position of blockers. Blockers must remain within a certain distance from each other at all times. Also on the track are jammers, one from each team who are the point scorers. It is the jammers' role to attempt to 'break' through the pack and score points for each opposition player they pass.
Following an extensive rule set, modern roller derby also includes a large group of officials who keep the players in line and track game statistics. There are up to seven referees required during a game, each with individual responsibilities. Up to 14 Non-skating Officials are also required, and generally include newer skaters, or in Steam Roller terminology, Groupies.
Doors open at 6pm with game formalities commencing at 6:45pm. Food, non-alcoholic and alcoholic beverages will be available for purchase.
DOORS OPEN: 6:00pm
GAME START: 6:45pm
EST. END TIME: 8:45pm
For sponsorship enquiries, please contact: sc.steamrollers@gmail.com
VIP Tables NOW ON SALE!
SPREAD THE WORD - SLAM ROCK IS COMING!
Comments