Brass Monkey comes to Energy Events Centre
Wednesday, May 16, 2018
Comments: 0
The 21 st annual Brass Monkey ultimate frisbee tournament will be held in Rotorua over the weekend of May 19 th -20 th , bringing together over 230 players from around the country.
Spectators are invited to check out this fast-growing sport which is taking off both in New Zealand and around the world. Saturday 19 th May will see tournament competitors playing in an indoor championship in the Rotorua Energy Events Centre.
Twenty-four teams will compete for the title of Brass Monkey indoor champions, coming from Auckland (9), Wellington (4), Hamilton (3), Palmerston North (2), Mt Maunganui (2), Whangarei and Rotorua (3).
The action will be fierce and fast as the indoor version of the game is carried out on a small court and at an often frantic pace. Spectators are invited to catch the action between 9am and 7:30pm.
Finals are scheduled to begin from 7pm.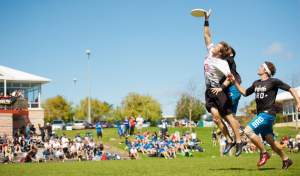 On Sunday 20 th May the activities will head outdoors to the social tournament - all players' names are put into a hat and teams are drawn out randomly, meaning players from Rotorua will play with players from Wellington, Auckland etc., and play against their usual teammates. The action will unfold at Medical Officer's Reserve (opposite Rotorua Boy's High School on Pukuatua St) and Kuirau Park between 9am and 4pm. This style of competition has proven to be of great benefit in raising the general skill level of newer players, as well as contributing to a fantastic social atmosphere.
What is ultimate frisbee?
Ultimate is a mixed-gender non-contact team sport played between teams of 7 players on a similar-sized field to a rugby field. The game combines elements of netball, soccer and American football. Play is advanced by passing the disc between teammates, though players cannot run with the disc and must throw the disc within 10 seconds. Points are scored by completing a pass into the endzone. High level play showcases field-length throws, aerial catches and thrilling dives. The game is unique among other sports in that it is self-refereed, even at the highest level. The rules are quick to pick up and any disputes are settled on the field between the players involved. While this may seem too good to be true, in practice it works very well due to the high level of sportsmanship and Spirit of the Game (which is the first rule of ultimate).
Over winter, ultimate can be played indoors with smaller teams on a basketball-sized court. This diversifies the game even more, with the smaller scale opening up new strategies and the lack of wind encouraging a wider range of throws.
Ultimate is experiencing strong growth in New Zealand, with an increase in players all over the country, and is being introduced to more and more regions. The quality of play around the country has also improved greatly in recent years, largely as a result of the increased participation of NZ teams at international competitions.
In July, 6 New Zealand teams will compete at the World Ultimate Club Championships (held in Cincinnati, Ohio, USA) and World Masters Ultimate Club Champs (held in Winnipeg, Canada). Several players from these representative teams will be playing at the Brass Monkey this weekend!
To find out more information on ultimate in general, see www.ultimate.org.nz
For further information on ultimate in Rotorua, please see www.ultimate.org.nz/rotorua
Comments