Rotorua International Stadium
Just a seven minute drive from the heart of downtown Rotorua and just five minutes from the hub of Rotorua's accommodation facilities, the iconic Rotorua International Stadium offers extensive car parking and can cater for all types of sporting, concert and festival events.
With a capacity to hold up to 40,000 supporters, the stadium is traditionally the domain of local and international sporting events and festivals. The Raggamuffin reggae festival, UB40 and the Searchlight Military Tattoo are among the shows that have been successfully staged at the stadium.
The stadiums main field has television broadcast quality floodlights to accommodate night events whilst its sister ground, Field 2, has training lights and a full-size grass athletic track.
The grandstand's top level includes two lounges and two corporate boxes whilst the media tower opposite had four seperate rooms for media activities. The tower roof balcony provides a prime camera location.
The main field has TV broadcast-quality floodlights for night events, and its sister ground, Field 2, has training lights and a full-size athletics track with an 8m x 2m LED scoreboard faces the main field, which can also be used for advertising and promotional messages during events.
For Rotorua International Stadium related documents visit our Resources page.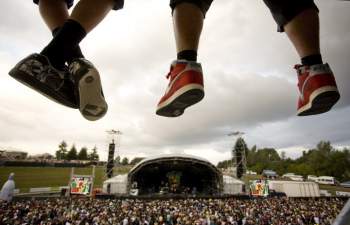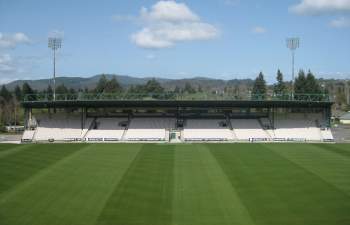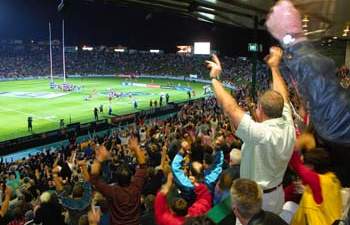 | Venue | Capacity | Cocktail | Banquet | Concert |
| --- | --- | --- | --- | --- |
| John Keaney Grandstand | 5300 | - | - | 5300 |
| Terrace Seating | 6000 | - | - | - |
| Total Ground Seating | 40000 | - | - | 40000 |
| Hepburn Electrical Lounge | 170 | 200 | 100 | - |
| Konica Minolta Lounge | 200 | 250 | 130 | - |
| Lions Den | 160 | 250 | 150 | - |