Monday, March 19, 2018
Read and add comments (0)
The dramatic stage set design being used for Mary Poppins – The Broadway Musical has become a talking point since the show opened.
The show is now into its last week and those who have enjoyed it to date are agreed that alongside the talented cast, the versatile and dramatic stage set is world class.
Designed by one of New Zealand's most respected theatre designers, John Harding, the set evolves from a grand living room to the rooftops of London, and from cosy children's bedroom to opulent park.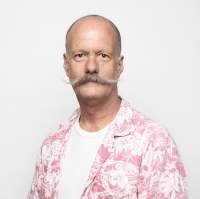 Harding designed the creative yet compact sets for the New Zealand Musical Theatre Consortium's tour of Mary Poppins which began in Invercargill in 2016. Since then the set has been brought to life in more than six regional theatres to rave reviews.

Visiting from England, Gwyn Harris attended the show with friends and was amazed by the whole production.
"This was on par with any West End show I have been to. The singing was top class and the stage and lighting made it magical," said Mrs Harris.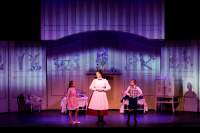 Having won many theatre and film design awards, Harding has also worked with Weta Workshop on The Lord of the Rings and The Hobbit, as well as Peter Jackson's King Kong and James Cameron's Avatar.
Rotorua Musical Theatre President Natasha Benfell says those who haven't yet attended the Rotorua production may not realise it isn't just a home-made set.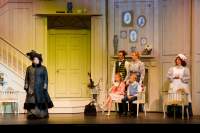 "This is a professionally made set, designed by John Harding who has a huge string of film and TV credits to his name," says Mrs Benfell.
"With only four more performances in this limited season, I would say to people – don't miss out."
Tickets are available to the following performances: Wednesday 21 March at 7.30pm, Friday 23 March at 7.30pm, Saturday 24 March at 2pm and 7.30pm. A range of seating and family concessions are available through www.ticketmaster.co.nz or at the Ticketmaster office at Rotorua Energy Events Centre.
Thursday, March 8, 2018
Read and add comments (0)
Fourteen Rotorua children are getting ready to hit the stage this weekend as part of the cast and crew for Mary Poppins – The Broadway Musical.
Following a series of auditions last year students from several local schools, including John Paul College, St Mary's Catholic School and Rotorua Intermediate were chosen to perform onstage or work behind the scenes on Rotorua Musical Theatre's production of the Disney classic.
Samantha Carter (15 years, John Paul College) and Mitchell Jones (14 years, John Paul College) were chosen to be part of the children's ensemble, and both already have 4 and 5 shows respectively under their acting belts.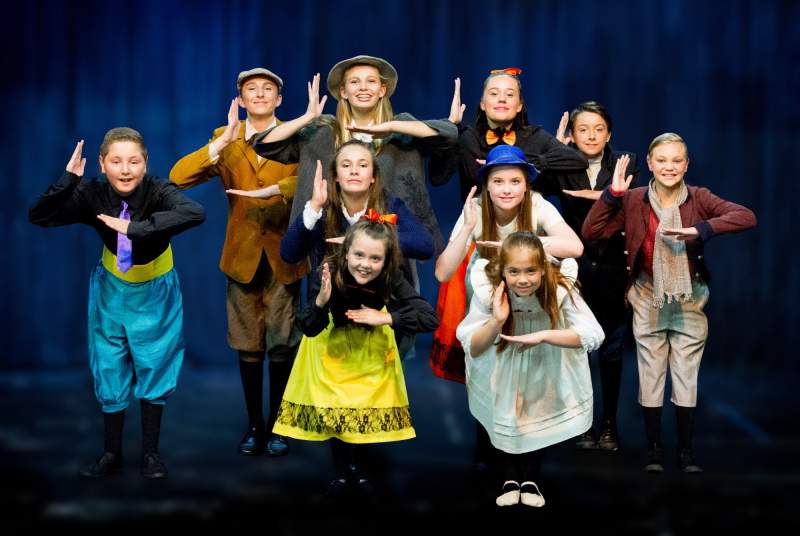 "The best thing was working with a huge adult cast for the first time. The talent is crazy and makes me want to work so much harder. I can't wait for the shows to begin," says Samantha.
During the past two weeks Rotorua children have been given the opportunity to win a VIP family experience to the opening matinee by completing a colouring competition. More than 220 entries were received and judges chose their favourites from the two age categories.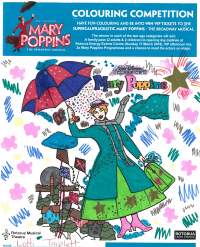 Lotti Tarplett (7 years, Glenholme School) won the 8 years and under category with her colouring with her picture above. While Sara Smith (9 years, Malfroy School) won the 9-13 category, with her picture below.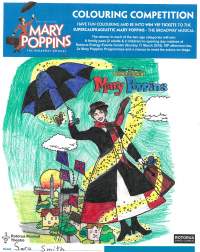 "I really wanted to see Mary Poppins and I can't believe I have won! I am looking forward to getting photos with the cast" said Lotti.
This limited season of Mary Poppins – The Broadway Musical will offer 12 shows at the Rotorua Energy Events Centre between 11 - 24 March 2018. A range of seating and family concessions are available through www.ticketmaster.co.nz
Friday, March 2, 2018
Read and add comments (0)
The Rotorua Musical Theatre production of the supercalifragilistic international hit Mary Poppins – The Broadway Musical is coming to Rotorua's Energy Events Centre with show dates confirmed for 11 – 24 March 2018.
How to buy tickets
Tickets are now on sale from Ticketmaster or in person at the Energy Events Centre, Queens Drive, Rotorua.
But Tickets online here
Table catering at the show
If you are seated at a table there is a great range of food platters available to order in advance. To order email ticketing@rotorualc.nz at least 3 days prior to the show. Menus are below.
Platters between two:
http://www.eventsandvenues.co.nz/downloads/Mary-Poppins-Preorder-platter-menu.pdf
Platters for full table to share:
http://www.eventsandvenues.co.nz/downloads/Mary-Poppins-Preorder-table-menu.pdf
Table service will be offered during the show with a limited food menu. A range of alcoholic & non-alcoholic beverages will also be available. And the Energy Events Centre Kiosk will be open during the interval.
Energy Events Centre Kiosk / Grandstand catering
Those seated in the Grandstand will be able to purchase snacks and drinks from the Energy Events Centre Kiosk.
The Kiosk menu including pricing is here:
Mary-Poppins-Kiosk-Menu.pdf
For more information on catering or the show email ticketing@rotorualc.nz or check out the Mary Poppins Facebook Page.
Wednesday, February 28, 2018
Read and add comments (0)
A partnership between Compass Group at Rotorua's Energy Events Centre and education provider NZMA is very much a win-win-win!
"We began working with NZMA in 2017 as one way to support students and for them to gain valuable real-life hospitality experience," says Operations Manager Steve McClay, adding that Compass has always worked with education providers to enable future hospitality 'stars' to grow and learn.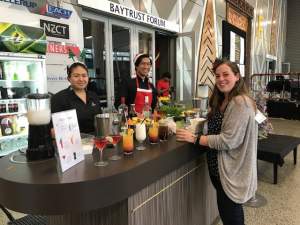 "This is a vital partnership. While it supports NZMA and its students, it also benefits Compass and our client. The students bring a lot of enthusiasm, energy and creativity to the functions and events we hold at the centre, providing guests with a memorable experience each time they attend our events."
The students – who enjoy the busy, creative functions – have gained experience at major events including the charity fundraiser Dancing with the Stars (1400pax plated, 200pax platters, 600pax kiosk public, 100pax buffet dinner).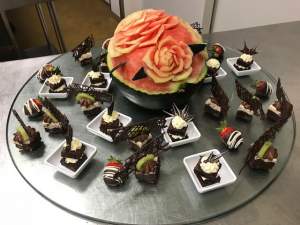 Compass Group are able to cater for intimate dinners for two through to functions for 2000 plus. They can provide a fully customised menu for events either at the EEC or at one of Rotorua's stunning off-site locations. Contact Steve to cater your next event.
Read the full story on the Compass Group website
Monday, February 26, 2018
Read and add comments (0)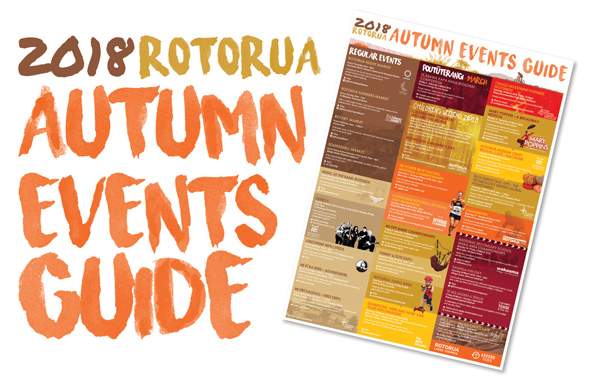 Monday, February 26, 2018
Read and add comments (0)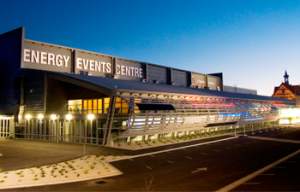 A three-day national symposium, expected to attract more than 600 delegates and bring up to $900,000 in spending, is the latest event secured for Rotorua.
Latest figures show multi-day conferences to Rotorua grew by 2 per cent to 79,324 delegate days over the last year, compared to a national downturn of 17 per cent.
Infrastructure New Zealand confirmed Rotorua's Energy Events Centre as the venue for the 2019 Building Regions Symposium in August 2019.
It is the first time the conference has been held in the regions, reflecting Infrastructure New Zealand's current focus on regional economic development.
Infrastructure New Zealand project director Sarah Lang said she was impressed by the co-ordinated approach of all Rotorua providers and that played an important role in deciding the conference destination.
"The programme for the 2019 Symposium highlights the importance of provincial towns and cities in the future growth of our country. We are looking forward to bringing delegates into Rotorua to experience all it has to offer."
Lang has been working alongside the Energy Events Centre business events team for the last three years to confirm the booking.
Energy Events Centre manager Joelene Elliott said the Infrastructure Symposium had grown over the years and there were very few venues that could comfortably host such a large conference.
"Conference organisers talked about the flexibility of the space, coupled with the great options for accommodation and activities around the city," Elliott said.
"Our team has worked extremely hard to secure this conference, and they are elated."
 
Destination Rotorua chief executive Michelle Templer said winning the bid to host the Symposium was a major coup for the region.
"Infrastructure is a critical component of economic development so it is great that Infrastructure New Zealand have brought the convention to a regional centre."
Friday, February 23, 2018
Read and add comments (0)

In Rotorua this month! Mary Poppins is in town, competitions in kapa haka, mountain biking, touch and NZ pipe bands Championships.. plus lots of FREE activities for kids with Children's Day and Parks Week!
Read the latest Events & Venues What's On Newsletter for March 2018 to find out more.
A print friendly version of the newsletter is available here:
Print March 2018 What's On Newsletter
Friday, December 22, 2017
Read and add comments (0)
Wind's in the east ..
There's a mist coming in ..
Like something is brewin' ..
And 'bout to begin ..
The Rotorua Musical Theatre production of the supercalifragilistic international hit Mary Poppins – The Broadway Musical is coming to Rotorua's Energy Events Centre with show dates confirmed for 11 – 24 March 2018.
Be enthralled, captivated and enchanted with this brand new production of Disney & Cameron Mackintosh's global sensation Mary Poppins.
Mary Poppins will be Rotorua Musical Theatre's big show for the year, said President, Natasha Benfell. "We have an extremely experienced and gifted director in Dean McKerras who will be joined by talented local Elisha Hulton as vocal director. We're also very excited to be working in partnership with Rotorua Lakes Council on this show, and were very appreciative of the support we have received," she said.
The cast is already deep in rehearsals with some exciting new twists to the show. "It will definitely be one to remember but I can't give it all away – you'll just have to come along," Benfell said.
She is predicting the family favourite will be a sell-out "Who doesn't know songs like Supercalifragilisticexpialidocious or A Spoonful of Sugar?"
Energy Events Centre Manager Joelene Elliott says staff have been working extremely hard, alongside Rotorua Musical Theatre, to enable the show to be staged in Rotorua.
"Mary Poppins was originally booked for the Sir Howard Morrison Performing Arts Centre which recently had to close for earthquake strengthening. The technical equipment needed, including specialist rigs needed for Mary Poppins to fly across the stage will need to be built at the Energy Events Centre, but it's an exciting challenge and one we're keen to take on," she said.
Don't miss out. Join Mary Poppins, Jane, Michael, Bert, Mr and Mrs Banks and the many other beloved and colourful characters as the Energy Events Centre is transformed into Cherry Tree Lane for Rotorua's must-see theatrical event of 2018.
Based on PL Travers' beloved book series of the same name, Mary Poppins became an immediate hit when it premiered as a movie musical in 1964, starring Julie Andrews and Dick Van Dyke. Forty years later, Cameron Macintosh conceived the enchanting stage musical that combines elements of Disney's film with material inspired by Travers' books.
Gift vouchers will be on sale online from Friday 22 December at www.ticketmaster.co.nz with tickets on sale from the Ticketmaster office at the Energy Events Centre from 8 January 2018. Both matinee and evening performances are available, with great concessions for families.
Mary Poppins – The Broadway Musical
Based on the stories of P.L. Travers and the Walt Disney Film.
Original music and lyrics are by Richard M. Sherman and Robert B. Sherman
Book by Julian Fellowes
New songs and additional music and lyrics by George Stiles and Anthony Drewe
Co-created by Cameron Mackintosh
Licensed exclusively by Music Theatre International (Australasia).
All performance materials supplied by Hal Leonard Australia.
ENDS
For further information:
Joanna Doherty, Business Development Manager – Arts & Culture
Rotorua Lakes Council
P: 07 351 7831 M: 027 272 5768 E: joanna.doherty@rotorualc.nz
Image credits:
Mary Poppins – The Broadway Musical
Dean McKerras – Director for the Rotorua Musical Theatre production of Mary Poppins
The Rotorua Musical Theatre production of the supercalifragilistic international hit Mary Poppins – The Broadway Musical is coming to Rotorua's Energy Events Centre with show dates confirmed for 11 – 24 March 2018.
Wednesday, November 8, 2017
Read and add comments (0)

(taken from the Rotorua Daily Post, 7 Nov 2017)
Another large International conference has been confirmed for the Energy Events Centre, Rotorua in September 2018.
Click here to view the Rotorua Daily Post article.
Wednesday, November 8, 2017
Read and add comments (0)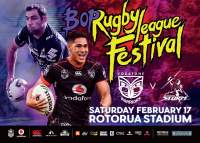 Auckland, New Zealand, November 07, 2017 – New signing Tohu Harris is in line for an early taste of facing his old team when the Vodafone Warriors and 2017 premiership winner Melbourne headline a two-day 'Festival of Rugby League' with a trial in Rotorua in February next year.
And Ryan Hoffman, who has come full circle by rejoining the Storm for 2018, could take on his ex-Vodafone Warriors side after ending a three-year stint in Auckland.
The Rotorua Lakes Council and the Vodafone Warriors today jointly announced the trial had been confirmed for Rotorua International Stadium on Saturday, February 17 (3.00pm kick-off).
It will cap a programme including a regional nines tournament for the Peter McLeod Cup, a trophy named in honour of the long-serving former general manager for Events and Venues Rotorua, who passed away almost two years ago. McLeod was the driving force behind the bid which resulted in the Auckland Warriors being introduced to the then-Winfield Cup in 1995.

Through their Harvey Norman Community Warriors programme, the Vodafone Warriors will also have a strong presence in the Geyser City leading up to game day when they'll be out and about in the community. The feature of the activity will be a packed schedule of school visits.
"Having a trial in Rotorua is a great fit for the club as well as our members and fans," said Vodafone Warriors CEO Cameron George.
"It's an ideal chance to take the team to another centre and this time there's the added attraction of having the premiers as our opponents, not to mention the possibility of Tohu (Harris) coming up against his former team-mates.
"We love the opportunity trials outside Auckland provide to meet fans and to connect with communities throughout the country."
It will be the fourth time the Vodafone Warriors have had a trial in Rotorua.
"It's always exciting for us having the Vodafone Warriors in Rotorua," said Crispian Stewart, operations and event development manager, Events and Venues Rotorua.
"They do a great job getting out and about in the community and once again our local players have the chance to be involved with the staging of the nines tournament for the Peter McLeod Cup. The final will be played before the NRL trial with Peter's daughters presenting the trophy."
In recent years the Vodafone Warriors have played trials in Palmerston North, Hamilton, Whangarei, Dunedin and Nelson.
Their first preseason clash in Rotorua was against the Sydney Roosters in 2010 when they won 26-8. In 2011 they beat Parramatta 24-4 at Rotorua International Stadium and returned in 2015 when they beat Penrith 18-4.
Vodafone Warriors head coach Stephen Kearney and his staff will have an opportunity to use some of the club's new signings on February 17. As well as Harris, they have signed Kiwis Adam Blair, Gerard Beale, Peta Hiku and Harris plus Gold Coast's Leivaha Pulu and Taupo-raised Matiu Love-Henry from Brisbane. Beale faces a lengthy stint on the sideline recovering from a broken leg he suffered in the Kiwis' opening Rugby League World Cup match against Toa Samoa on October 28.
While Cooper Cronk and Harris have finished with the Storm, the Craig Bellamy-coached champion side will go into 2018 still boasting Kangaroos Cameron Smith, Billy Slater, Will Chambers, Jordan McLean, Cameron Munster and Felise Kaufusi, Kiwis Nelson Asofa-Solomona, Kenny Bromwich and Jesse Bromwich, excitement machines Suliasi Vunivalu and Josh Addo-Carr and new signings Hoffman and Sam Kasiano.
For inquiries please contact:
Richard Becht
Communications Manager
Vodafone Warriors
Mobile: +64 21 814 537
Email: richard@warriors.kiwi
Next page

Viewing page 1 of 6