Major coup for EEC worth the wait
Tuesday, July 31, 2018
Comments: 0
From small acorns do mighty oaks grow. That's true of the Rotorua Energy Events Centre's (EEC) small business events team as they continue to build on past successes whilst constantly scouting for new business.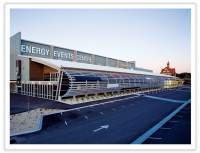 Of the seven major international business events the EEC team have secured for Rotorua through to 2021, the team are particularly proud of securing a New Zealand first. The biennial conference of the Society for Geology Applied to Mineral Deposits (SGA) will bring 650 delegates to the city with an economic impact of $1.3 million.
Eight years after an opportunity was identified by the team, the 4-day international event will be held at Rotorua's EEC in March 2021. It's the first time the prestigious biennial symposium has been held in NZ, and only the third time in the southern hemisphere.
After EEC successfully hosted the 2013 Applied Geochemical Symposium, EEC's Business Events key accounts manager Warren Harvey took a proposal to conference convenor Tony Christie, a senior minerals geologist with GNS Science, to bid for SGA's 2019 biennial international symposium. Supported by TNZ and encouraged by the conference's ability to impress the large contingent of overseas delegates, EEC assembled a bid that Mr. Christie took to SGA. Although initially unsuccessful, a second attempt secured the 2021 event.
Other international events are: 2018 Laser Con conference (550 pax), 2018 World Indigenous Business Forum (1000 pax), 2019 World Health Promotion conference (2500 pax), 2020 International Congress on Photosynthesis (450 pax), 2020 International Post Harvest Symposium (450 pax), and 2021 International Volcanology conference (800 pax).

It's good news on the domestic front too, with the EEC securing several large conferences that either haven't conferenced in Rotorua or used the EEC venue previously: 2018 NZ College of Midwives biennial conference (600 Pax), 2018 Financial Advisors conference (500 pax), and 2019 Infrastructure NZ conference (600 pax).
Mr. Harvey believes success comes from "doing our job, working the databases, having strong networks, and knowing our in-house operations team will provide a seamless transition for clients."
"Rotorua's small city attractiveness is also key. Conference-goers from big cities really appreciate our venue's flexibility of spaces, ease of access, free parking, proximity to hotels, and our one-stop shop attitude. Similarly, Rotorua's huge range of team-building and partner programme opportunities add real value."
ENDS - 377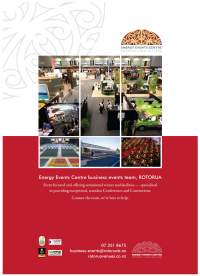 For additional information contact:
Warren Harvey
EEC Business Events Key Account Manager
Ph 027 249 8614
warren.harvey@rotorualc.nz
Comments